Landscapes and Streetscapes Catalogue
Explore this database to discover local landscapes and historical buildings that reveal the changing face of our community. These images are assembled from the collections of Heritage Markham and the Markham Museum. Together they document changes to streets, farms, parkland and individual structures from 1870 through to today.
Higher resolution copies of individual images are available for purchase by contacting researchfacility@markham.ca. A member of the Museum's staff will be pleased to assist you.
This project compliments the Markham Register of Property of Cultural Heritage Value or Interest.
Mapping Markham, Phase 1 was generously supported by the Museums & Technology Fund of the Ontario Ministry of Culture and Tourism, Province of Ontario.
This inventory is a work in progress. The content is provided for general information only. For more information about heritage status of properties please contact:
Heritage Section
Development Services Commission
101 Town Centre Boulevard
Markham ON M3R 9W3
heritage@markham.ca

For Museum inquiries and to find out more about genealogical research opportunities please
contact:

Markham Museum
9350 Markham Road
Markham ON L3P 3J3
researchfacility@markham.ca
How to use this website:
Markham residents received their mail at an area post office prior to door to door delivery. Small cross-road hamlets with sufficient population were granted permission to establish a post office under the direction of a local post master. Hamlet names could be recommended, but often were selected from a pre-approved list. Many of our local 38 hamlet names live on in our community today, including: - Almira, Armadale, Box Grove, Buttonville, Cashel, Dickson Hill, German Mills, Hagerman's Corners, Locust Hill, Victoria Square.
The map below outlines the earliest urban planning system of Lots (south to north) and Concessions (west to east) used to assign locations to properties. Many of our oldest photographs are identified in this manner. In order to present this inventory, we have approximated the modern address for some buildings that no longer exist. The original boundaries of Markham Township extended further north and west than today. We have included some images from these early parts of our community.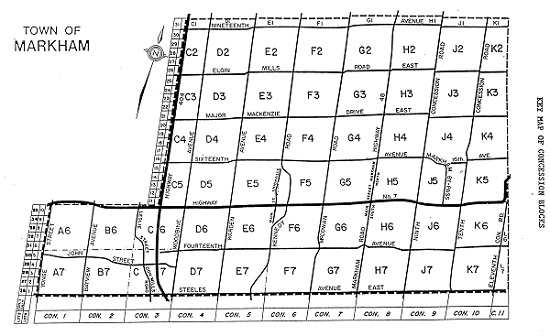 You may search for a location using a specific modern street address or by filling in one or all the details in the combination search below.
We welcome your comments on this project.
Markham Museum.
Quick Search
Combination Search